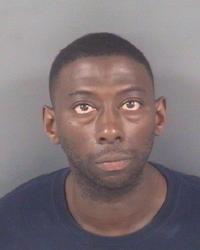 A Wake County man has been arrested in Fayetteville after investigators accused him of robbing a Kernersville grocery store in March, authorities said Thursday.
Lionel Vernard Robinson of Wendell was charged withe one count of robbery with a dangerous weapon, one count of entering a premise wearing a mask, four counts of second-degree kidnapping and four counts of assault by pointing a gun, Kernersville police said.
He is also a suspect in armed robberies at Aldi locations in Fayetteville, Lexington, Rocky Mount and Indian Trail.
A man in a Hulk mask and orange traffic vest walked into the 819 S. Main St. Aldi at 8:50 a.m. March 15 at with a small black handgun, police said. The man entered the store as it was preparing to open.
He demanded cash and forced the employees into an office, police said. No employees were injured.
After getting an undisclosed amount of money, the man left the scene, driving a black, four-door passenger car, police said.
Robinson was being held Thursday in the Cumberland County Jail, police said. His bond information wasn't immediately available.