Alek Sigley's family say they have no confirmation of reports he has been detained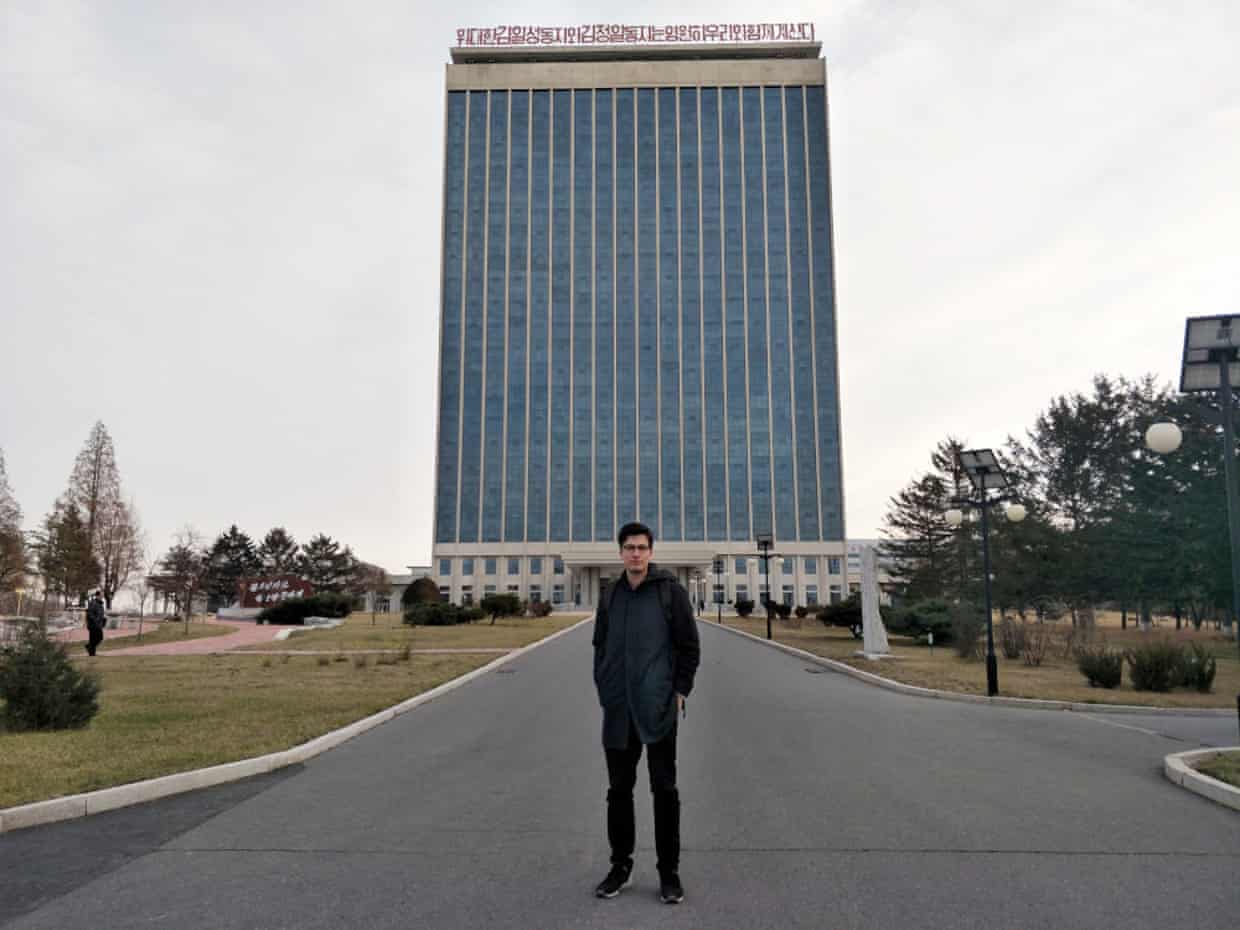 The family of an Australian man reportedly detained in North Korea say they have not heard from him since Tuesday, but that they have not received confirmation that he has been arrested by the repressive regime.
Reports emerged on Thursday that Alek Sigley, a 29-year-old living and studying in Pyongyang, had been arrested in North Korea.
The Department of Foreign Affairs and Trade confirmed it was providing consular support to the man's family, and was "urgently seeking clarification" about Sigley's whereabouts.
"The Department of Foreign Affairs and Trade is providing consular assistance, in accordance with the consular services charter, to the family of an Australian man who has been reported as being detained in North Korea," a Dfat spokesman said.
In a statement released on Thursday, a spokesman for the Sigley family said they had not been able to confirm that he had been detained, but that he had been out of contact for the past 48 hours.
"As of 1pm AEST it has not been confirmed that Alek has been detained in the DPRK," the family statement read. "The situation is that Alek has not been in digital contact with friends and family since Tuesday morning Australian time, which is unusual for him.
"Alek is an Australian-born Asian scholar and traveller who has visited, studied and lived in several countries in Asia. Alek can speak Mandarin and Korean fluently, as well as some Japanese.
"Alek's family hope to re-establish contact with him soon."
Sigley is studying a master's degree in Korean literature at Kim Il Sung University and runs a tour company that organises trips for foreign students. He first traveled to the DPRK in 2014.
In March, Sigley wrote for Guardian Australia about his experience living in there, saying that as a long-term foreign resident on a student visa he had "nearly unprecedented access to Pyongyang".
"I'm free to wander around the city, without anyone accompanying me," he said. "Interaction with locals can be limited at times, but I can shop and dine almost anywhere I want."
His disappearance comes as Australia's prime minister, Scott Morrison, is in Osaka ahead of a meeting with the US president, Donald Trump, on the eve of a G20 summit.
At the weekend, Trump will visit Seoul to hold talks with the South Korean president, Moon Jae-in, before a possible third US-North Korean summit. The US has raised the proposition of further talks with North Korea after previous negotiations stalled.
On Thursday the finance minister, Mathias Cormann, said the Australian embassy in South Korea was working with Swedish officials in Pyongyang.
"There's obviously some complications in providing consular assistance into North Korea – we work through the Swedish government [and] all of those steps are under way," he said.
He said he had not spoken to Morrison about whether the prime minister would raise Sigley's detention with Trump.
Sigley is a former student at the Australian National University's college of Asia and the Pacific, where he focused on North Korean propaganda. He graduated last July.
He also operates an Australia-based tour operator, Tongil Tours, specialising in educational tourism to North Korea. The company's website is advertising a summer language program in North Korea due to begin on Saturday.
Sigley's latest blogpost on the company's website, on 20 June, talked about visiting restaurants in Pyongyang with other foreign students. This week he tweeted about a new hotel opening in the capital.
Alek Sigley (@AlekSigley)

New signage above the main entrance to the Ryugyong Hotel bearing its name and logo. A sign that it will soon be open for business?

류경호텔 정문에 걸려있는 새 간판. 간판은 류경호텔의 이름과 상표를 표시하고 있다. 개업날이 다가오고 있는가? pic.twitter.com/bwdDot50ya
Euan Graham, the executive director of La Trobe Asia and an expert on North Korea, said while the country's motivations were hard to predict "they're obviously not doing this in a bubble".
"It's not as if there is any judicial process that happens independently of politics in North Korea," he said. "In order to make this move they will already have assessed the fact it will be read as a potential political case, and the timing in terms of an anticipated potential third summit between Trump and Kim Jong-un.
"The North Koreans will obviously factor the politics into account before they act. Ahead of any negotiations both sides are seeking leverage so that's one potential explanation, but it is only one."
Other foreigners detained by North Korea include the US college student Otto Warmbier, who was imprisoned in 2016. Warmbier was sentenced to 15 years of hard labour after North Korea found him guilty of "crimes against the state" for allegedly taking a propaganda poster on a visit with a tour group.
But on the face of it, Graham said, Sigley's case appeared vastly different.
"Alek Sigley has been in Pyongyang for over a year, he's enrolled in the most prestigious university in North Korea and has been steadily tweeting out a diet of carefully calibrated messages which aren't really too sensitive and actually quite favourable for the outside impression of North Korea in terms of pop culture, food and the like," he said.
"In that sense it's more surprising. If he's been suddenly taken into detention it's something that only hurts the North Korean image because Sigley has, I think, been trying to paint North Korea in a fairly positive or benign light."
Tom Fowdy, a Beijing-based business analyst who runs similar tours through North Korea and knows Sigley, said while the "overwhelming majority" of foreign trips to North Korea were "trouble free", the Australian's situation was different.
"Alek wasn't there on tour for a few days, he was actually living there," he said. "Not only living there but tweeting and writing columns and, while he was not hostile to North Korea or politicising, it's a relevant fact that North Korea takes a very specific and direct dislike to people it deems to be journalists and correspondents.
"Sigley wasn't a journalist but it could have been inferred from his social media account, even if what he was saying was not at all hostile. This is all speculation, of course – we don't know for sure what has happened here."
Australia does not have formal diplomatic ties with North Korea and consular assistance is provided by the Swedish embassy on a limited basis. Australia has previously communicated with North Korea through Pyongyang's embassy in Jakarta.
It's understood that Colin Crooks, the British ambassador to North Korea, is providing assistance in Sigley's case.