Although an attorney for the 'Jerry Maguire' actor has argued that a delay in the ruling would 'impact him financially and professionally,' the judge in charge gives prosecutors until 17 July to respond.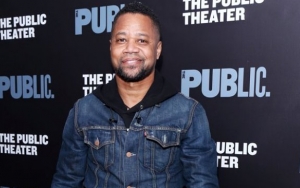 AceShowbiz – Cuba Gooding Jr. will have to wait until August to find out if his motion to dismiss his criminal groping charges will be granted.
The "Jerry Maguire" star is facing misdemeanours of forcible touching and sexual abuse in the third degree, relating to an incident at the Magic Hour Rooftop Bar and Lounge in New York on June 9, when he allegedly grabbed a 30-year-old woman's breast without her consent.
The 51-year-old, who had been at the venue with his girlfriend, Claudine De Niro, has vehemently denied the claims, and pleaded not guilty to the counts earlier this month.
His attorney Mark Heller is fighting to have the case dismissed, and, during a hearing in a Manhattan courtroom on Wednesday, June 26, he presented video surveillance footage from the night in question which reportedly proves his client's innocence.
Heller argued a delay in the legal proceedings could cost the actor a number of upcoming work opportunities, stating, "Mr. Gooding's life has been put on hold, it's on the pause button… substantially impacting him financially and professionally."
He also questioned why the accuser's name had been withheld from a signed deposition submitted by authorities, in which the woman detailed the alleged sexual misconduct.
Prosecutor Jenna Long explained that as the female is considered a sex crime victim, they are keen to keep her name out of the news, for now.
Judge Keshia Espinal was not swayed by Heller's call for a swift end to the case, and instead declined to make any "rash decisions" about the matter, giving prosecutors until July 17 to respond to the dismissal request in writing.
She will then make a ruling on the motion on August 14, reports TMZ.
If convicted of the charges, Gooding, Jr. faces up to a year behind bars, in addition to three years of probation and a $1,000 fine.