A young Ghanaian lady identified as Akua has revealed that she slept with 600 men in a year during her days as a prostitute. According to the Nairaland, the 24-years-old lady revealed she opted for prostitution so as to survived the harsh economy in the country. She said she started facing the harshness of the economy when her jealous friends made her boyfriend who was sponsoring her to dump her.
"My boyfriend whom I met when I went to visit an uncle who was sponsoring my education. We had agreed to get married as soon as possible. Then some people I regarded as friends started peddling wicked lies against me and without confirming if what they were saying was true or false, he called it quits just like that."
They told him I had an incurable disease. So, I decided to help myself because my parents cannot do anything for me. We are poor. My father used to be a driver but he is now unemployed while my mother is a full time housewife. Sometimes, she sells vegetables", Akua narrated.

On the amount she was earning working as a prostitute during at night, she said: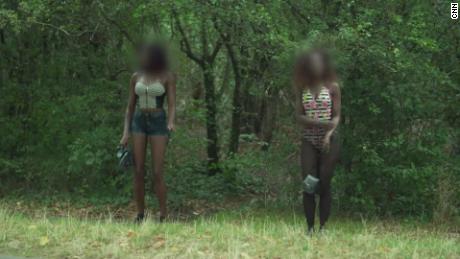 "They were paying me GH¢150 a month and you work late hours. But if you go out to hustle in the night, you can get that kind of money within a day or two. About 600 men slept with me from last year to this year", she revealed.
In related news, an unnamed Nigerian lady who has had lots of multiple partners has cried to relationship blogger, Joro Olumofin, to seek for advice. According to her, her past is hunting her and she does not know what else to do. She is finding it difficult to get married due to her ugly past.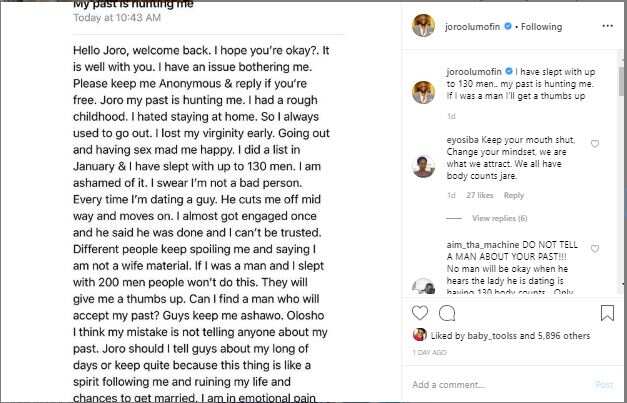 She has slept with 130 men in the past and this keeps ruining her chances of settling down. She is presently seeking advice on Instagram. My past is hunting me. I had a rough childhood. I hated staying at home. So I always used to go out. I lost my virginity early.
Going out and having sex made me happy. I did a list in January and I have slept with up to 130 men. I am ashamed of it. I swear I'm not a bad person. Every time I'm dating a guy, he cuts me off midway and moves on. I almost got engaged once and he said he was done and I can't be trusted. Different people keep spoiling me and saying I am not a wife material. If I was a man and I slept with 200 men, people won't do this. They will give thumps up. Can I find a man who will accept my past? ,' a part of the email reads.
What are your thoughts on this? Kindly leave a comment below and don't forget to share