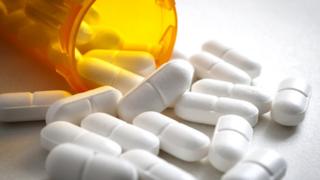 It is said to be a public health crisis in the US and Canada and officials there have branded it an "opioid epidemic".
But an authoritative report emphasises there are increasing problems with opioid painkiller addiction and abuse in other leading economies – including the UK.
The message is that policymakers are often unaware of the risks and need to sit up and take notice before there is further damage to their population's health.
International comparisons on health are often difficult but the Organisation for Economic Co-Operation and Development (OECD), representing the world's richer economies, is well placed to deliver them.
It has pulled together data on opioid painkiller supply and deaths related to their use for 25 member countries.
The OECD's conclusions are stark.
It refers to a "surge in overdose deaths" and argues over-prescription of painkillers by doctors and the illicit drugs trade have fuelled a "mounting health and social crisis".
Opioid abuse, it adds, has put a growing burden on health services.