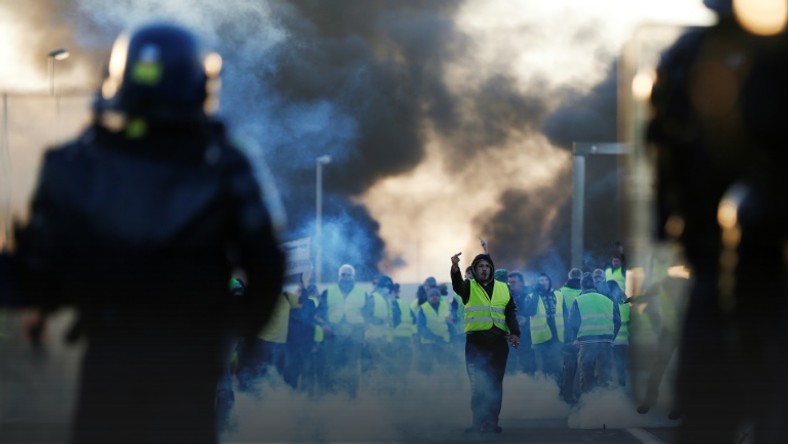 Exactly six months ago, on November 17, 2018, nearly 300,000 protesters wearing yellow fluorescent jackets blocked roads and occupied roundabouts in rural and small-town France in the first major demonstration against rising fuel taxes.
In the weeks afterwards, the movement spiralled into a nation-wide revolt against the cost of living and the pro-business policies of centrist President Emmanuel Macron, who was elected in May 2017.
Every Saturday, tens of thousands of people try to keep alive the spirit of the rebellion in towns across France, although the numbers are down significantly from their height in November and December.
In total, 11 people have been killed, more than 4,000 injured and more than 12,000 arrested.
Here is AFP's selection of some of the most striking moments:
Violence at the Arc de Triomphe
On December 1, major rioting breaks out on the Champs-Elysees which has been the epicentre of the unrest through the biggest crisis in Macron's short time in office.
Anti-Macron graffiti is sprayed on the foot of Arc de Triomphe and a museum inside the world famous monument is pillaged in scenes that shock France.
Cars and restaurants are set on fire, shops are pillaged and police officers are attacked in the violence that spills into the wealthy residential districts surrounding the landmark.
Macron insulted
Three days after, a local police station was set on fire in the Haute-Loire department in southern France, leading President Macron to pay an impromptu visit.
In a sign of the animosity towards the 41-year-old, who is denounced as arrogant and out-of-touch by the protesters, passers-by catch sight of him and rain insults on him.
They can be heard shouting "Resign, resign!" and "Die on the road, dick head" in footage of the incident that is humiliating for a head of state who had promised to restore the prestige of the presidential office.
A policeman brandishes his gun
After falling off his motorbike on the Champs-Elysees on December 22, 2018, a police officer and two colleagues come under attack from demonstrators throwing stones and heavy objects.
In the footage, the officer looks to be in danger of being lynched by the baying crowd, but he pulls his gun out and points it at a protester, before quickly putting it back in its holster.
– Fork-lift trucks at the ministry
On January 5, demonstrators driving fork-lift trucks crash into the doors of the office of government spokesman, Benjamin Griveaux, who is escorted to safety.
Boxer's punches
On January 5, former professional boxer Christophe Dettinger is filmed attacking two police officers in Paris, raining down punches on them on a bridge in the centre of the city.
After being filmed in the act — which turns into a hero for some and a disgrace to his sport for others — he is later sentenced to a year in prison for assault.
Eye injuries
Weapons used by the French police to control crowds and defend themselves from attacks, in particular rubber bullets and stun grenades, have become highly controversial during the protests.
One of the most high-profile figures of the yellow vest movement, Jerome Rodrigues, receives an eye injury during protests in Paris on January 26. He falls to the ground as he is filming the incident on his mobile phone.
Rodrigues loses the eye and claims the injury was due to a rubber projectile fired from a handheld "defensive ball launcher", known by its French initials "LBD".
Plundering on the Champs-Elysees
On March 16, the world-famous Champs-Elysees boulevard is again plundered by protesters, who pillage shops and set fire to restaurant Le Fouquet's, a famous hangout for politicians and the wealthy.
Elderly activist injured
In the southeastern city of Nice, a 73-year-old activist and member of the Attac pressure group suffers a fractured skull when security forces try to disperse a banned "yellow vest" demonstration on March 23.
Macron comes under fire for being unsympathetic after he wished her a "speedy recovery, and perhaps a degree of wisdom".
"When one is fragile and risks being shoved, one does not go to places that are declared off-limits and one does not put oneself in a situation like that," he told a local newspaper.
"Kill yourselves"
Violence against the police has been a theme of the protests from the beginning and 1,797 members of the security forces have been injured, according to the interior ministry.
On April 20 in Paris, a number of demonstrators scream "kill yourselves, kill yourselves" at police officers at a time when the number of suicides in the security forces has risen to record levels.
burs/spm/klm